(This is part 2 in a 2 part series by guest blogger, Adenia Linker. Read Part 1 here: Building Resilience in Children and Teens)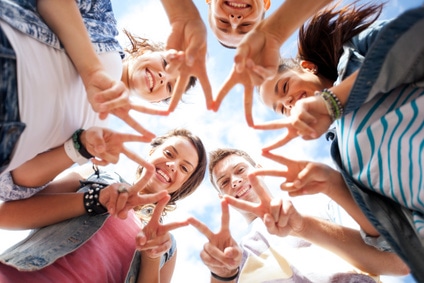 Competence
Competence is cumulative, acquired through actual experience, and manifests in children as "I can do this!" As children struggle with skill building and say, "I can't", they often feel hopeless. They need to hear "yet" at the end of their declaration and amend their interpretation of their capacity. New skills are reinforced when adults praise efforts, and avoid harsh criticizing, which can undermine budding abilities. By shortening our speeches and avoiding lectures we can support them without undermining their competence. We must remember that all people in times of crisis go concrete, and see things in a very literal way. Often our lecture content is too abstract, but they always understand our tone.
People have two different mindsets, and for those with a growth mindset, they feel smart when they learn to do something they couldn't do before, however for those who have a fixed mindset, they only feel smart when they don't make mistakes. When focus is on ability – when they own the solution, there is no rebellion. They arrive at their own answer by having their own "aha" moment and own it, leaving them with nothing to rebel against.
Confidence
Our children's confidence flows from their competences. When they feel competent after mastering a skill, they are charged to take on even more challenges. Unfortunately we have all been lied to, when we believed and repeated, "SATs pave the future", "you have to be good at everything", even when suggesting "just try your best". These lies suggest that a good test score is all you need to succeed, and contain hidden propaganda, that you can't succeed without a high mark on a standardized test. Many of our children suffer from "imposter syndrome", a disease created by perfectionism. And don't be fooled that all perfectionists are perfect – some "don't live up to their potential" with a fear of failure. These perfectionists are full of self-loathing, fear of B+, and fear of disappointing, leaving them with no out-of-the-box thinking, destroying their creativity, and fostering resentment of constructive feedback. Because when they fail, they are shattered.
It is imperative that we praise their efforts, not the results. Effort unlike intelligence is something they can control. Don't ask what grade they got, ask them what they learned? Seek out opportunities catch them being good and doing well. It deemphasizes any incompetence they are still processing, and unlike when we mudsling and point out every character flaw, it demonstrates that we believe they are capable.
Connection
For some of us, watching to our children struggle with adolescence is very difficult, perhaps because it brings up our own history during this volatile transition to adulthood. As our adolescent children prepare to fly from the nest, we may find ourselves showering them with texts and phone calls, checking on them with vigilance. This says, "I'm anxious and you should be too" and suggests that they aren't able to cope with the world at large. Because they love us so much, they have great desire to spare us and avoid causing us pain. This is precisely why they will hide mistakes rather than reveal that they need help. We further damage this connection, when as authoritative parents we dictate decisions regarding their personal business. Our advice is much better received when it focuses on safety and rules of society rather than personal choices such as friends or appearance.
It is vital that we listen, and turn off our parent alarm. When we tell them how to feel or dismiss what they say perhaps even adding our own instant answers, our children feel stupid and incompetent. This shames our children, and creates even more fear and disconnect in our relationship. Rather than over-empathize and catastrophize, our role is to be available, like a lighthouse. By assuring they have access to the wider world: relatives, neighbors, civic, educational, religious, and athletic voices, we ensure that other adults can also listen and support their growth. By building rituals that guarantee a calm opportunity for family time, we show them we are present without weighing in on their daily activities.
Character
Today's pop culture sadly dismisses the value of character by advocating celebrity heroes and elite America as role models. Our children need access to ordinary heroes – realistic role models to emulate, and opportunities to observe how true heroes are givers. Adolescents have a fundamental sense of right and wrong, and understand that character is doing what's right when no one is looking.
We can counter this toxic social construct by celebrating their character, and building a case for what a successful human being looks like.  Regularly pointing out our children's acts of kindness and the kindness of others reinforces the gratitude we all feel when we see good character in action. They may also need to be reminded that being average and below average is not abnormal, especially because we cannot be exceptional at everything.
Contribution
Everyone needs a sense of purpose, especially our youth who are identifying his or her own strengths. With the convenience of cyber communications, it's vital that our children go outside and contribute to the world. Knowing that others need you, and that they genuinely appreciate your assistance helps youth foster empathy as well as boost the spirits of all who witness such contributions, including other siblings.  Giving and contributing to another's welfare develop new skills and talents. Teens who are involved with service get comfortable asking for help for themselves, and also benefit from positive feedback from the outside world, a very tangible result of volunteering. For minorities, the very toxic messages represented in common stereotypes can be countered with service, because of the gratitude demonstrated by those who are assisted.
Coping
Resilience is all about learning to cope with setbacks and disappointments, and it is entirely dependent on developing skills that employ positive strategies. Stress leads to all kinds of discomfort, for which there are positive and negative strategies. As adults, we understand that negative strategies lead to more stress, but we often struggle to employ them for ourselves. Positive strategies, we are also aware, provide relief but require diligent practice if we turn to them only after a crisis has occurred. Our children will benefit the most if these positive coping skills have been instilled as adaptive behaviors before they are faced with difficult decisions and stressors.
One critical piece of dealing with a stressor is separating the paper tigers from the real ones. Is the trial being faced temporary or permanent? Is it truly bad or could it be viewed as an opportunity. When our children cultivate the attitude that time or reasonable effort can solve the problem, they no longer identify the issue a crisis, rather as a test. As they develop that critical discernment, they also can begin to separate problem-focused engagement from emotion-focused engagement, eventually directing their coping strategies to the problem rather than their emotional distress.
Stress management for different ages
All children need opportunities to learn about being emotionally healthy and physically strong. Early adolescents will listen attentively and enjoy practicing stress management strategies. They are developmentally ready to exercise self-care, and expressing how they feel after exercise or art provides additional stress reduction. As our children move into mid and late adolescents, they no longer want to hear instructions about stress reduction, but be assured they are watching you to see what you do to cope. We can practice the same steps to reduce our stress that we hope to see them utilize beginning with actively avoiding triggers. Further when we exercise, monitor our nutrition, and practice healthy relaxation routines such as breathing exercises and proper sleep, our children have in-house models of positive stress management outcomes.
Control 
The independence our adolescents desire represents an internal need for control, a sentiment we can all relate to. Parents sometimes struggle with granting privileges when they are unsure of how their children will handle personal choice and will power when under the weight of potentially unhealthy peer pressure. We must trust they have the ability to bounce back from the mistakes they will inevitably make. Our kids will live up to or down to our expectations.
Control in parenting means offering love and warmth with safety rules, however responsibility for behavior ultimately lies with our child. We can assist in this transition by granting privileges for consistent behavior, and making a safety net of earned freedoms. If our discipline method involves  "I said so," our children will feel small, however when the freedom is earned they feel large. Once we decide something is okay, we have to have faith in them. To build their resilience, offer purposeful love as a source of stability and healing. Ask yourself if your reaction is developing or undermining their resilience. Reflect that love, and providing a space for their skills to develop, until together you overtake the field of risk.
When youth resilience is limited
Cultivating the 7 C's: Competence, Confidence, Connection, Character, Contribution, Coping, and Control build youth resilience. This is simply the most comprehensive approach to bolster our children against physical symptoms, fatigue, disinterest, dropping grades, sad mood, irritability, and substance abuse – all which can surface when resilience is limited. For deeper reading on resilience check out Building Resilience in Children and Teens: Giving Kids Roots and Wings or Letting Go with Love and Confidence by Kenneth Ginsburg, MD, MSEd or visit www.fostering resilience.com.
Written by:  Adenia Linker
With 12 years experience bringing wellness education to children, families and educators, Adenia Linker has been described as a "dynamo" who "applies herself fully with equal parts head and heart". Her organic style – "teaching while playing" creates an active dialogue about the body and it's maintenance.
If you witness her in action, you'll find that her sessions are the opposite of most competitive children's activities – and quite exciting for adults too. Her workshops for educators and parents are available year round, and while most of her youth programming is in schools, she does offer occasional student's series in the Chicago area.
A love of non-fiction and vegetarian cooking help Adenia constantly nourish both her family and her clients. As the mother of teen-age twins, she has a great understanding of how our youth respond to their environment and how to help them foster valuable physical, intellectual, emotional and social skills.
She regularly uses bibliotherapy as a tool to craft vocabulary and space for dialogue, and has mastered translating mind-body research into real-life applications for all ages. Adenia is a member of the International Association for School Yoga and Mindfulness, as well as several education and parent advocacy groups. She serves as a SEL Consultant to the teacher-portal CoreStand.org and attends graduate school at University of Illinois Chicago studying Youth Development. She currently serves as the Peace Works Trainer for Marquette University's Center for Peacemaking bringing non-violent communication programming to 4th -8th graders in Chicago.
While Adenia's focus is the development of life-long positive social and emotional skills in youth, she remains devoted to health literacy and the role schools and districts play through their policies and professional development. Additional information can be found at www.adenialinker.com