(This is part 1 in a 2 part series by guest blogger, Adenia Linker. Read Part 2 here: 7 C's: Competence, Confidence, Connection, Character, Contribution, Coping, and Control. )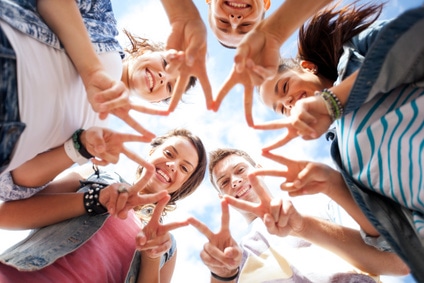 Every parent desires to see their children succeed, however with a rapidly changing and terribly complex world awaiting them, we often get caught stressing on short-term details rather than considering the skills they will need for the long haul. Considering that learning occurs across a lifetime, we aren't actually raising independent 18 year olds who can leave home for their college years, rather we are nurturing resilient 35 year olds who can competently navigate adult challenges they will face like parenting, job transitions and relationship changes.
Dr. Kenneth Ginsberg stressed recently in a lecture in Chicago that our societies' fixation on preparing youth for college has distracted our focus from our children's true needs. While attending a top college does makes a difference in a student's first job, this generation stays with their first employer for less that three years. What questions do second employers ask of references: Can they handle criticism, are they a good team player? Not, how many extra curricular activities did they maintain or what was their SAT score.
By paying too much attention to what they look like in our house, we've unconsciously shortchanged our children, killing their creativity and confidence. Resilience, the ability to recover from or adjust easily to misfortune or change, is an underrated yet invaluable skill – a mindset today's youth, a generation of stressed out perfectionists desperately require. What our children truly need is the ability to determine if the crisis they are facing is a catastrophe or an opportunity, a real tiger or a paper tiger?
Strugglers are the folks that repair (and improve) the world, and they have to strengthen their empathy muscles through the pain of failure. Adolescents must fail, and learn to recover, to deal with incompetency and make mistakes – and they do this best when they have a least one adult who offers unconditional love, who believes in them, provides them stability, and sees them as delightful and delicious regardless of what their report card reflects! To retool our recipe for success and foster resilience in our children, we need to feed our children daily servings of the 7 C's: Competence, Confidence, Connection, Character, Contribution, Coping, and Control. 
Written by:  Adenia Linker
With 12 years experience bringing wellness education to children, families and educators, Adenia Linker has been described as a "dynamo" who "applies herself fully with equal parts head and heart". Her organic style – "teaching while playing" creates an active dialogue about the body and it's maintenance.
If you witness her in action, you'll find that her sessions are the opposite of most competitive children's activities – and quite exciting for adults too. Her workshops for educators and parents are available year round, and while most of her youth programming is in schools, she does offer occasional student's series in the Chicago area.
A love of non-fiction and vegetarian cooking help Adenia constantly nourish both her family and her clients. As the mother of teen-age twins, she has a great understanding of how our youth respond to their environment and how to help them foster valuable physical, intellectual, emotional and social skills.
She regularly uses bibliotherapy as a tool to craft vocabulary and space for dialogue, and has mastered translating mind-body research into real-life applications for all ages. Adenia is a member of the International Association for School Yoga and Mindfulness, as well as several education and parent advocacy groups. She serves as a SEL Consultant to the teacher-portal CoreStand.org and attends graduate school at University of Illinois Chicago studying Youth Development. She currently serves as the Peace Works Trainer for Marquette University's Center for Peacemaking bringing non-violent communication programming to 4th -8th graders in Chicago.
While Adenia's focus is the development of life-long positive social and emotional skills in youth, she remains devoted to health literacy and the role schools and districts play through their policies and professional development. Additional information can be found at www.adenialinker.com