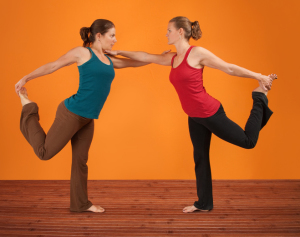 We've just launched a 500 DVD giveaway of our "Partner Yoga for Teens" video and teacher guide. Educators can register to be entered in the giveaway until November 15th. While we're collecting registrants, I'll be writing a series of blog entries to help prepare teachers for guiding teens in partner yoga.
The very first and most important step in helping teens develop a powerful, life-enriching partner yoga practice is to begin with a thorough reminder session of what it takes to be an ally.
Start by defining the terms.
What is an ally?
What does it mean to be in partnership?
What skills and conditions are required?
What agreements need to be in place for everyone to feel safe and supported?
Begin by asking students to share their own ideas on these questions. I love provoking thoughtful conversation by guiding teens through a 3 part process.
1. Contemplation   Guide teens to a comfortable seated position. Ask them to either close their eyes, or rest their gaze in one general direction, preferably on the floor. Pose the 4 questions above slowly, giving several minutes time to reflect on each inquiry. Bring them back to the room with a few grounding breaths.
2. "Walkabout"  I borrow this practice from two of my graduate school teachers, Senta Greene and Stephanie Hopkinson. Write the words "ALLY," "PARTNERSHIP," "SAFETY," and "SUPPORT" in the middle of large posters or chart paper. Hang the pages around the room. Have a box of markers available for students to write their thoughts surrounding each theme. You can play soft, contemplative music during the walkabout. Give ample time for students to respond to each theme, but emphasize the "first thought, best thought" nature of the practice, as well. Afterwards, assign a student to each poster and ask them to read all responses out loud.
3. Discuss and Decide  Now, enter a large group discussion on the most important qualities to being an ally. Make a list, write it large so everyone can see and save it for future posting. You might also consider typing out the list and emailing it to students or giving each student their own copy. Click here to read more helpful tips on facilitating teen yoga discussions.
I've facilitated this process with teens many dozens of times. The most recent class decided on this list:
How to Be an Ally in Partner Yoga
Listen with Your Whole Self
Be Courageous
Express Yourself
Respect Each Others Bodies
Don't Act a Fool
Check In To Be Sure Everything is OK
Don't Compete, Support
There you go, in their own words!
Educators: don't forget to register for the 500 DVD giveaway here.