We're giving away 500 Partner Yoga for Teens DVDs!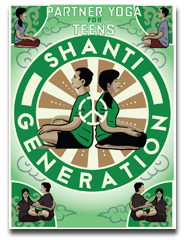 Great news! We've extended our registration two more weeks to accommodate all the educators, parents and coaches who would like to sign up for a free copy of our Partner Yoga for Teens DVD. Enter for your chance to win before midnight on December 1st.
In collaboration with The Film Project, through the generous funding of the Rebecca and Michael Vest Foundation, we are so happy to be able to give away 500 DVDs to help educators introduce mindfulness curriculum in their classrooms. The DVD and accompanying teacher guide outlines 10 five-minute partner yoga sequences to enhance physical, mental, emotional and social health for all types of teenagers, including those with special needs and autism.
This program offers young people an opportunity to develop skills to transform the culture of bullying and peer pressure that is so prevalent in schools today. Partner Yoga for Teens helps teens learn to be allies with each other and work together for a peaceful future.
Thank you to our generous supporters whose donations made this opportunity possible!
Sorry, this offer is now closed. Sign on to our newsletter to be notified of future opportunities for teachers, and receive our free mindfulness and yoga tools for educators.