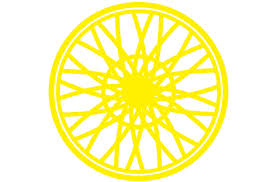 Since we  launched our first public fundraiser, a SoulCycle charity ride, people want to know, "What is SoulCycle and what does it have to do with yoga?"
SoulCycle is an indoor-cycling class that in my estimation is:
Part sweat lodge
Part meditation hall
100% cardio fun
In short, it's one of the craziest things I've ever done and I love it. Here's how I got into it.
Last June, I was not feeling well. I was in a mire of postpartum hormonal shifts, my abs were still split down the middle from carrying a gigantic baby very forward, and I felt a general malaise unlike anything I've experienced as an adult. I had my two gorgeous (gigantic) boys filling my heart with joy everyday. I had my loving family, my thriving teaching practice, incredible friends. My life was full of good, but I felt bad.
My yoga practice was helping to keep me sane, but physically, I faced a conundrum. Even after much research, effort, private consultations with experts and practice, no amount or kind of yoga was taking effect on the diastasis (ab split). It was as if my body and brain needed to form a new pathway for new strength to arise.
One day that summer, in an online anatomy course, my teacher talked about tapas as a practice of breaking old habits; trying something new. This was the yoga I needed! Something new. I tuned my radar in that direction and, sure enough, later that day my dear friend Cindi (birth doula extraordinaire) mentioned SoulCycle. I said, "I'm coming."
Mind you, I had never taken, nor ever, ever imagined I would take a spinning class. I mean, why would one do such a thing? But, I did. And it was good.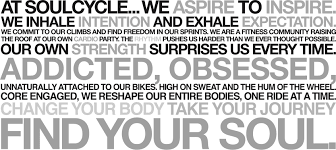 My first class was with the talented Molly Schreiber. She took little mercy as she coached us into an immediate sweat and danced her way around the room prompting more effort. It was killer. At the end of class, I told Cindi I felt like Charlize Theron driving the war rig! I did not know my body could move quite like that. It was hard and I knew I had a lot to learn.
I continued to ride with the amazing Molly, as well as try out other teachers. I found Nick Pratley and in him a level  of guidance, support and trust on par with the relationships I've had with my core yoga teachers. Nick helped me wake up my biggest, deepest dreams and nurture them with sweat, effort and intention.
In weeks, I felt the strength of my abdominal wall come back online. It felt so good.
Nearly a year and 85 rides later, I am still on fire about SoulCycle and incredibly thankful for the powerful impact it's made in my life. I was over the moon when the studio manager suggested they host a charity ride for Shanti Generation!
That brings is to now. Our charity ride is less than 3 weeks away. We are filling the room (54 bikes) with a crowd of dreamers, athletes, rockers, teachers and good people willing to work out hard for a good cause. And, others across the country are supporting our efforts with donations to help Shanti Generation reach the next level of outreach to youth.
We are building an innovative program to empower teens and teachers with skills to live mindfully. Every ounce of support strengthens this movement.
Come ride with us! Or share a small donation to fuel our work with schools.
And, don't forget the moral of the story: sometimes we need to try something to new to make the changes we desire. Stepping out of our comfort zone is as much a part of yoga as lotus pose.