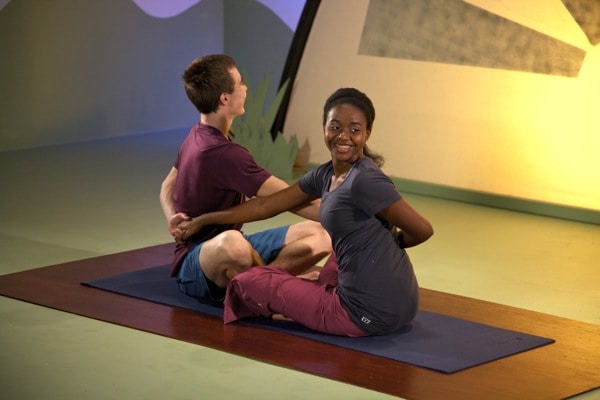 "Shanti Generation and their group of intrepid teens have created the resource. Now we need to spread the message and make sure this starts happening in our homes and schools." ~elephantjournal.com by Amy Taylor
Shanti Generation's Partner Yoga for Teens responds to the social and emotional needs of teens:
Learning to communicate mindfully

Developing listening skills, listening beyond words

Learning to express needs and feelings

Understanding what it means to support

Understanding what it means to be supported

Learning to work in community with peers

Having the experience of working and relaxing with peers
Partner Yoga for Teens enhances physical, mental, emotional and social health for all types of teenagers, including those with special needs and autism. This program offers young people an opportunity to develop skills to transform the culture of bullying and peer pressure that is so prevalent in their lives. Partner Yoga for Teens helps teens learn to be allies with each other and work together for a peaceful future.
"The first time I taught partner poses to teenagers, I was unattached to any particular outcome. I thought we'd give it a good try and see how they responded. Not only did my teen students love the experience, they started asking for partner yoga in every class. Bingo." Abby Wills, MA
SCHOOLS AND EDUCATORS:
Click here to learn how to purchase PARTNER YOGA STREAMING CONTENT for your school…
Partner Yoga For Teens DVD features include:
10 FIVE-MINUTE SEQUENCES
Practice with a friend, sibling, classmate or parent. Focusing on:
Friendship

Balance & Fairness

Purpose

Chilling Out

Expression
Each sequence creates strength, flexibility, clarity, calm, balance and trust by including:
mindful movements

breath awareness

relaxation techniques
SPECIAL FEATURES
Original Music by Aaron Wills (aka P-Nut of 311) and tracks from MetaMeta
Interviews with real teen yoga students on:
Bullying

Compassion

Empowerment

Community

Partnership

Stress
As described on yogitimes.org by Annie Buckley:
"I wanted to do the yoga video because it was about teaching others what I know, especially teenagers and young adults, because there's not a lot of videos out there that are made by us," explains Kimberly, one of the young peacemakers in Shanti Generation's DVD. Not only is this one of the few (if not the only) yoga video made by and for teens—facilitated by yoga instructor and Shanti Generation co-founder, Abby Wills—it is also one of the most effective, comprehensive, and optimistic yoga videos available for any age. The rich array of possibilities provides for individual choice and versatility and encompasses a range of practices with an emphasis on bringing the tools of yoga into daily life.

Throughout the video, Wills narrates as the adolescent peacemakers demonstrate poses on a beautiful but simple set to a cheerfully peaceful original soundtrack. Wills's well-chosen words and strong but soothing voice perfectly complement the teens' poise and individuality. Creative and adolescent-friendly titles for the poses and sequences include "Creating Happiness", "Choosing Peace" and, my personal favorite, "Constructive Rest", a subtle twist on Savasana with bent knees and arms over the chest. This variation on traditional rest pose offers gentle protection, giving teens (and others) the freedom to relax more fully.

One of the strongest aspects of this DVD is that, throughout creative sequences, calming and grounding meditations, and fun interviews with the cast, the teens are genuinely active collaborators, not simply modeling poses. This authenticity will go a long way to inspire youth viewers who will benefit from the opportunity to see their peers as teachers and leaders. As another the Peacemakers, Kaya, wisely explains, 'Yoga is an attitude; it's the way you are in the world. When you do yoga, you have a more positive outlook on life.'

Wills' commitment to social justice in teaching and learning comes across in her willingness to step aside and empower her students/teachers to take the stage and lead the way. As she explains in the introduction, "Shanti means peace. Here you will meet many Shanti warriors who will teach you yoga skills to empower yourself and to help you to make conscious, wise choices in your life."
Partner Yoga for Teens: An Antidote to Bullying?
We all know social and emotional effects of bullying can last a lifetime. We've seen the recent reports of bullying on the rise, as well as the growing trend of cyber-bullying. What may be good news to some folks ears is that a powerful anecdote to bullying can be found in an ancient practice: yoga.
As a solo practice, yoga certainly offers many benefits helpful to social relationships.
sharpening mindfulness
honing attention
mind/body strengthening factors
more personal and social ease.
What Teens Are Saying:
"I don't know, there is just a different feeling you have with a person you've done yoga with. You have bond that goes beyond the classroom." Herson, 15 years old
"It's all about compassion and finding a common ground with people you wouldn't even normally talk to." Rachel, 14 years old
"[With yoga] you learn to love yourself and love who you are." Emma, 16 years old
"A lot of time you just see the outer surface of people and, like, yoga, it really brings people together, especially this group yoga, you really find this connection, not just physical but emotional through it as well." Reyna, 17 years old
"Lack of knowledge is what starts, I think, bullying or conflict or war even." Jesus, 17 years old
Can Yoga help with Autism?
Partner Yoga For Teens DVD brings together yoga, education, special needs and caregiving in an important tool for students that have signs of heightened anxiety, poor motor coordination, self-regulation or are on the autism spectrum.
Helps students look inward and not be so concerned about what's going on around them.
Being in a room with others and not being judged is the most empowering tool for these youth.
Doing something that focuses on feeling good empowers confidence to those who always feel like they're doing something wrong.
Helps them make friends
Cope with stress
Learn to concentrate
Creates a bond with others
Self awareness (body/mind/breath) leads to greater ability to self regulate
Cultivates a culture of acceptance
"It felt a little awkward when I first started it, and then I fully got adjusted to it and I really like it now. It centers my body and my soul and I just feel really calm while doing it. For the little time out that I have to do yoga it helps me clear my mind and think of the important things that I have to achieve." Jonathon, 17 years old
"My 7year old son uses this weekly. He has ADHD and autism. This helps him focus and with behavior. I love it!"
ABOUT THE TEENS
The nine dedicated teens featured in this program have different levels of experience with yoga, from 1 year to 10 years. These teens represent a diverse community of learners, from athletes to artists, skateboarders to performers. Several of these teens live on the autism spectrum. Yoga practice is an awesome way to bring together teens of diverse experiences in a way that let's everyone be themselves.
"When I take yoga class I feel like I can let go of any stress, anything that bothers me." Kaya, 13 years old
"It really helps me with sports." Gyasi 14 years old
"Partner Yoga for Teens is all about communication and relationships. I know from my work in the schools, and as a parent, that social skill development matters as much as, or even more than, academic success. Teachers and counselors can use this DVD to help teens get beyond the barriers that divide them.
These kids keep it real. You see them adjust to make the poses work better. They grin and give each other high fives at the end of one sequence. It's intense, yet never intimidating or phony. This DVD would make a great gift for a teen or teacher. These are priceless life lessons on establishing mutual trust and building alliances."
Shanti Generation and their group of intrepid teens have created the resource. Now we need to spread the message and make sure this starts happening in our homes and schools." ~elephantjournal.com by Amy Taylor
Amazon and Netflix reviews:
"My daughter was recently diagnosed with scoliosis due to muscle imbalance. We are
working to strengthen her core muscles and bring her back muscles into a more even
alignment. These exercises are exactly what the Physical Therapist prescribed.. The
exercises are easy to follow and fun for kids. I would recommend this dvd to anyone
wishing to introduce yoga to children."
"This is a great DVD. My kids and I have a great time completing the poses together. They really like the fact that actual kids are teaching them. This video is wonderful and I can get my hockey boys to do yoga and really enjoy it."
"I bought this video for my 8 year old daughter and 6 year old son, and I just love it! I've always been more of a pilates fan, but both of my kids expressed interest in yoga so I found this DVD. The instruction is clear, and I love that the "teachers" are all kids because it makes it so much easier for my kids to relate. The voice over is fantastic, really drawing them into a meditative state during the exercises. I can't say enough – if you're new to yoga and want to enjoy it right along with your family, don't hesitate. Buy this DVD!"
"My nine year old son loved this video. I actually did it with him. He found it made him much calmer. He has ADHD/Anxiety and this seems to help him."
"I'm a special Ed teacher and use yoga in my clas 3x a week. With this DVD you get 5-6 options of workouts to choose from. This yoga DVD does a great job of incorporating moves with positive messages for the students. The moves go pretty quickly and some of the poses are challenging."
SCHOOLS AND EDUCATORS:
Click here to learn how to purchase PARTNER YOGA STREAMING CONTENT for your school…