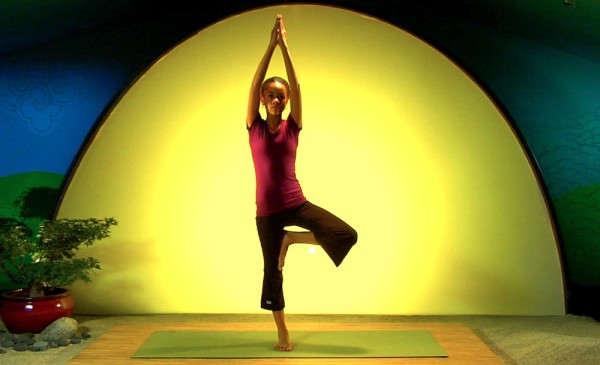 Want to instill confidence and self esteem in your child? Does your teenager have trouble focusing? Does your preteen have trouble making appropriate decisions? Are you seeing signs of depression in your teenager? Does your child stress over taking tests or having too much homework? Are you looking for techniques to help your child with autism focus and integrate?
Our introductory program, Yoga Skills for Youth Peacemakers, offers young people access to an array of yoga practices including:
poses

breathing exercises

relaxation techniques

basic mindfulness practice

yoga from the students perspective
Specifically designed for and modeled by a diverse population of preadolescents and teenagers with a secular curriculum.
Ideal for home use as well as classroom applications.

Classroom teachers download our guide for using this DVD program in the classroom.

No previous yoga experience necessary. No yoga teacher training necessary.

Sequences are translated in Spanish and Japanese.
"This is my first year in middle school and homework was getting really stressful and yoga would just help me calm down." ~ Dante

"Yoga Skills For Youth Peacemakers, a DVD from Shanti Generation, teaches yoga as a path to inner calm, emotional mastery, self-esteem, and resilience. The teachers on the DVD are seven teenagers who use yoga for their own personal development and wellbeing. Abby Wills, a Los Angeles-based yoga instructor with more than 15 years' experience teaching youth, is the project creator; her husband, Aaron Wills (a.k.a. P-Nut, the bassist for the popular rock band 311), supplied the DVD's upbeat grooves." ~Yoga Chicago

"Invaluable Resource! As a counselor for adolescents going through recovery I observed first hand that physical health was synonymous with mental and emotional health. There is nothing more important for a young person than to find a way to simply sit and be present. Whether you are a yoga teacher or a parent seeking ways to guide your children to find their own bliss in a world filled with distractions, you will find this DVD invaluable."
~Rahasya Poe, Lotus Guide Magazine

Yoga Skills For Youth Peacemakers DVD features include:
CHOOSE YOUR PATH: 5 unique half-hour practice sequences:
Creating Happiness: Forward bends for flexibility

Energy Amplified: Balancing and core strengthening postures

Choosing Peace: standing poses, backbends and forward bends

Being Sound: Twist, bend and relax

Voice Choice Possibility: Breathe, visualize and move
LIBRARY OF POSES: 18 mini-sequences to create your own practice.
BREATHING ROOM: 5 basic breathing exercises to relieve stress and anxiety.
SELF CONNECTION ROOM: 2 basic Mindful Awareness Practices
SPECIAL FEATURES:
"Meet the Peacemakers" interviews with teen yoga students about how yoga empowers their choices in life.

Spanish and Japanese translations
"Yoga helps me connect with other people, like how my energy filters out through the rest of the room." ~ Kimberly
"It's hip, relevant, helpful as well as visually inspiring and appealing to use. The way the material is organized invites personal choice and multiplies uses. I love that everything about it supports teens in more deeply connecting with and nurturing themselves. I'm buying it for every teen I know." ~Leah Kalish, Founder, Yoga Playgrounds
As described by LA Yoga magazine:
"Yoga teacher and New Roads School faculty member Abby Wills has teamed with the filmmakers at WSR Creative to create a visually inventive Yoga DVD program that captures the visual aesthetic of young, hip, urban cool. Wills has drawn on her background and training in Yoga and childhood development to provide engaging instruction for breathing and meditation practices and guide the Shanti Warriors – the students on screen.

Themes include creating happiness, choosing peace and energy amplified. The practices are taught in a choice of English, Spanish or Japanese, making the same disc suitable for a wide range of students and situations.

Beyond asana (posture), Self-Connection offers Wills' guided meditation instruction to help students 'relax and connect to their source of power in any situation.'

The segment, Meet The Peacemakers, features interviews with the diverse group of students who practice on screen: Dante, Gyasi, Janely, Kaya, Kimberly, Kyoko and Starlight. They reveal the superpower they'd like to have, why they started Yoga and what it does for them and they all express their joy in sharing what they know with others. Clips like shots of Dante skateboarding can be a tool to convince young people of the cool factor or to showcase images of a relatable peer group.

Throughout, Wills emphasized safety and self-awareness as cornerstones of the practice, reinforcing the uplifting message of self-empowerment and community involvement."
"Best youth yoga DVD on the market !Abby Wills and her team have done an outstanding job of bringing a high quality, high production value, content packed DVD to the youth of the world. I think teens will find this very user-friendly, appealing and most importantly, doable. I know I will be recommending this to all the teens I know." ~Joanne Spence, Founder, Yoga in Schools