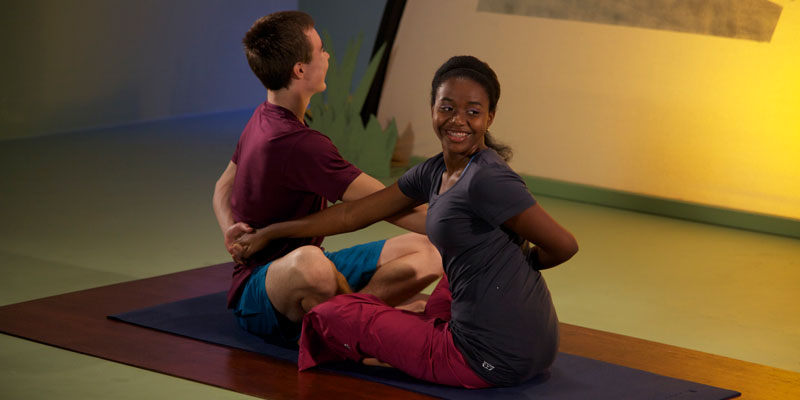 In this seven part series, we will hear teens reflect on the outcomes of practicing yoga with their peers and family members and offer ideas for encouraging dialogue with your own students and kids. The six themes teen yoga students identified as most valuable to their lives are: compassion, empowerment, community, partnership and yoga to alleviate stress and bullying. 
Teachers and parents can inspire teens to uplift their social and emotional intelligence by helping them to develop the meaning and practice of partner yoga. To practice partner yoga as a fun addition to a yoga and mindfulness practice is easy enough, but beyond the fun factor, partner yoga for teens has the potential to enrich teens' lives in deeply meaningful ways. By guiding teens to view their partner yoga practices in the context of their lives, goals and challenges, we help our students and children find the value in dedicating themselves to health and wellness.
Foremost, before beginning any activity with a partner, teens need to be reminded of the basic terms of healthy partnership. Read this post for tips on being an ally. Once teens are mindful of the inner conditions necessary for a safe, effective partner practice, they can set forth with confidence.
There are several methods I've found effective in building context around the partner yoga practice.
1. Contemplation
In the beginning of a practice session, I like to give students time to reflect upon the themes and qualities we will be encountering in the day's practice. In a comfortable seated pose, I suggest two or three ideas to contemplate that are related to the social and emotional aspects of the practices. For example, if we are practicing partner balancing poses, I will offer the following inquiries for their contemplation: "What inner qualities can you bring to your practice today that will help your partner to feel safe and supported by you?" "How do you know when you can trust your partner to support you?" "What if your partner is having a tough time doing a pose that is really easy for you?"
2. Dyad Sharing
Give teens time to share and discuss their ideas on the days relevant topics with their partner. Many yoga teachers of teens  have expressed difficulty getting teens to remain quiet during practice. Rather than expecting the impossible, I suggest creating a container for meaningful dialogue that enriches the experience. Then, the request to practice postures in silence is much more feasible. Give teens a time limit for the dialogue and let them know you will ring a bell or chime when there is one minute remaining. Encourage them to continue the conversation outside of class if they have more to say. *A note on democracy in the classroom: If everyone says "aaawwwww" when you ring the bell and you can see that more time would benefit the overall experience, by all means, give them a reasonable amount of additional time. Take note of these moments and be sure to work in more time for in future classes for topics that resonate strongly.
3. Group Discussion
I encourage all youth yoga teachers to get really good at facilitating a potent group discussion. Observing an experienced teacher in action can be very enlightening. Ultimately, though, the way to developing this skill is by doing it. Read this post for a few pointers to keep the discussion on track and democratic.
4. Journaling
Whether in class or as a home learning opportunity, journaling gives students a chance to share on a different, more intimate level, especially for introverted students. Depending on the class environment, I either ask students to bring a journal that I keep in the classroom, or simply hand out paper and have a manila folder for housing each students responses. If journaling is given as a home assignment, I invite students to respond via hard copy or email. In most cases, I practice "open journaling" wherein students know I will be reading and responding to their entries. (I respond on post-it notes.) I always offer, though, the option that students can fold a page, or take it home, if they've written something they do not want me to read. Private journaling is also an effective way to help students develop the meaning of their practices, but lacks the added opportunity for teacher-students relationship building.
Once teens have had the opportunity to reflect and share with their peer groups, you might consider providing a wider platform for their voices to be heard. That is just what we did in our Partner Yoga for Teens DVD. The 6 following posts will highlight real teen voices and provide ideas for deepening context through contemplation, dialogue and journaling.