SCHOOLS AND EDUCATORS:
Purchase PARTNER YOGA STREAMING CONTENT for your school.
---
COLLEGE STUDENTS AND EDUCATORS:
SHANTI GENERATION YOGA SKILLS FOR YOUTH PEACEMAKERS is now available FREE on Kanopy.
---
Yoga Skills for Youth Peacemakers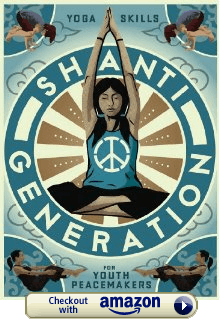 The first DVD in a series of innovative media bringing mindfulness and wellness practices to youth.
Join teen yoga students along with their yoga teacher Abby Wills to discover and cultivate your own power and potential to shape your world. Designed especially for people ages 10-15, this DVD is loaded with ways to develop your physical, mental and social skills.
Set to positive grooves created by 311 bassist, Aaron Wills (aka P-Nut), Yoga Skills is a virtual handbook created to help young people connect to their selves, their roots and their dreams.
DVD Features include:
• 5 unique half-hour practice sequences: Creating Happiness, Energy Amplified, Choosing Peace, Being Sound and Voice Choice Possibility
• Library of Poses: 18 mini sequences for Focus, Energy and Calm
• Breathing Room: 5 sequences featuring stress management and self-regulation.
• Self-Connection Room: Two mindful awareness practices.
• Interviews with seven teen yoga students.
• Optional narration in Spanish and Japanese
• Over 30 unique options for beginner and experienced yogis alike
---
Yoga Skills for Youth Peacemakers Now on Vimeo
Shanti Generation is now available on Vimeo on Demand bring yoga with you wherever you go! Watch on IOS, AppleTV, Roku, Chromecast go to https://vimeo.com/ondemand/shantigenerationteenyoga

Click here to learn how to watch SHANTI GENERATION YOGA SKILLS FOR YOUTH PEACEMAKERS on Vimeo.
---
Partner Yoga for Teens
SCHOOLS AND EDUCATORS: Click here to learn how to purchase PARTNER YOGA STREAMING CONTENT for your school.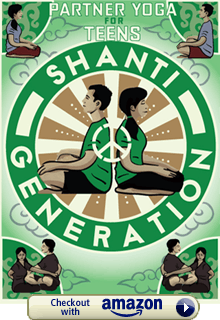 Partner Yoga for Teens enhances physical, mental, emotional and social health. This program offers young people an opportunity to develop skills to transform the culture of bullying that is so prevalent in their lives. Partner Teen Yoga helps teens learn to be allies with each other and work together for a peaceful future.
Teens love Partner Yoga because it includes the aspects of life they care about most, including friendship, adventure and fitness
This unique style of yoga practice also provides some of the remedies teens need most: relaxation, energy restoration and de-stressing.
DVD Includes:
10 five-minute sequences to practice with a friend, sibling, classmate or parent.
Each sequence includes mindful movements, breath awareness and relaxation techniques to create strength, flexibility, clarity, calm, balance and trust.
Special Features Include:
Original Music by Aaron Will (aka P-Nut of 311) and tracks from MetaMeta
Interviews with real teen yoga students on bullying, compassion, living with autism, community, partnership and stress.
ABOUT THE TEENS
The nine dedicated teens featured in this program have different levels of experience with yoga, from 1 year to 10 years. These teens represent a diverse community of learners, from athletes to artists, skateboarders to performers. Several of these teens live on the autism spectrum. Yoga practice is an awesome way to bring together teens of diverse experiences in a way that let's everyone be themselves.
---
Mindful Life Skills for Classrooms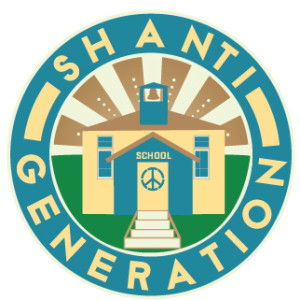 Informed by over 15 years teaching mindfulness in real schools to real students and teachers, our newest program offers teachers a myriad of practical, simple ways of integrating mindfulness into every day.
We have chosen the best and simplest of what works in mindfulness for youth and tailored the practices to meet the needs of the classroom. We are putting the finishing touches on the project now.
This program will be available soon for download from this site!
Sign up for our newsletter to stay informed. We will let you know as soon as it is available and we'll send you a Mindful Educator's Toolkit including video and audio segments you can use now.
---

Resilient Youth: Teen Yoga for Coping with Stress

Successfully guiding teens in yoga is an art requiring keen listening skills and the ability to create context relevant to teens lives. During this webinar Abby Wills, of Shanti Generation, will take you through experiences designed to help teens understand stress, resilience and how to utilize yogic practices to cope. By developing the meaning of coping and stress, we will open a link between the reality of teens lives and the power of yoga to heal and transform. Includes copy of the slides plus three additional video clips. 1 hour.
Membership
Kids Yoga Academy offers membership! Enjoy the benefits of world class training and resources at your convenience. 
When you become of Member of the Kids Yoga Academy community you gain access to the entire Kids Yoga Academy Curriculum Library. This includes all past eCourses, Lesson Plans, Tutorials and Teaching Resources. Members also can reserve their place at all UPCOMING LIVE WEBINARS as part of their membership perks. We offer the most in depth online kids yoga training and resources published by today's  leading experts in the field of kids yoga and mindfulness. Join Today!