It is my pleasure to introduce our newest guest blogger, Randi Ragan, and her practical, yet powerful guidance. I am touched and impressed by her ability to utilize our daily life routines as the basis of spiritual uplift. Please enjoy! Love, Abby
Excerpted from her book A Year of Living Mindfully:  Seasonal Practices to Nourish Body, Mind and Spirit (Motivational Press, 2016) All Rights Reserved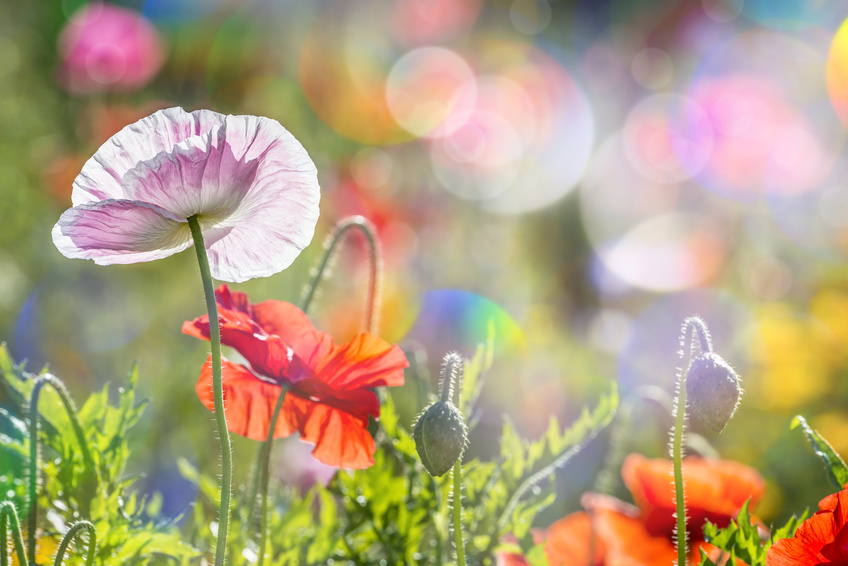 Springtime is about getting the chance to start over. We all want to be renewed, to experience the power of renewal. Spring offers up that promise. The fresh newness of the scene outside the window invites it. Now is the time to seek out clarity, divest stagnant and old thoughts, old ways of being. It's the time to try new projects, open up to new possibilities, and new agendas.
Start first with writing down all the habits in your life that you truly know are not working for you anymore, things that are stale, weighing you down, or don't serve your 'greater good'. This could be anything from habitual negative thinking to friends who don't support your choices; it could be eating junk food late at night right before you go to sleep, or going to sleep later than you need to feel rested and revived in the mornings. It could be time to up your exercise routine. Perhaps there is a way to spend more time volunteering for your neighborhood litter cleanup or cutting down on your credit card spending. Maybe try to work more fresh greens into your meal plans and fewer French fries. Anything that is part of your daily routine is worth honestly reviewing.
Take a nice walk to think about the new things you'd like to try working into your life. Let the changes you observe in nature all around you inspire you to let the changes you've listed start to sprout and grow in your life.
Cultivate the practice of everyday detox. Rather than wait to a crisis point to make health changes and then try and purge everything in a panic of removal, here are some simple, everyday habits that will help move you toward a lifestyle ingrained with positive, detoxing habits:
Drink lots of filtered, purified water each day. There is nothing that you can do for yourself physically that is simpler or more important.
Eat plenty of fiber, including brown rice, oatmeal, and organically-grown fresh fruits and vegetables. This will keep your digestive system moving and cleaned out.
500–1000 mg of vitamin C a day will help the body produce glutathione, a liver compound that stimulates cleansing.
Visit saunas regularly so your body can eliminate wastes through perspiration. Try going to ethnic enclaves in your city for some of the best of these kinds of inexpensive experiences: Russian, Turkish, and Korean traditions have beautiful histories of working with sauna heat for everyday detoxing.
Exercise for at least thirty minutes every day; enough to elevate your heart rate and break a sweat. Choose anything that gives you enough pleasure that you will keep doing it on a regular basis, and include variety.
Experience regular detoxifying body work.  Lymphatic massage can help your body in clearing sluggish tissues of waste and swelling, and is an excellent adjunct to the rest of your springtime cleansing efforts. Though lymph vessels are found throughout the body, most of them—about seventy percent—are located just below the skin. By using very light pressure in a rhythmic, circular motion, a trained lymphatic massage therapist can stimulate the lymph system to work more efficiently and help it move the lymph fluids back to the heart. Furthermore, by freeing vessel pathways, lymphatic massage can help retrain the lymph system to work better for more long-term health benefits which includes more vitality and energy, and the ability to fight infections.
Eat food that acts to cleanse and protect the liver, as well as purify the blood and neutralize toxins. These foods include kale, beets, basil, cauliflower, fennel, lemons, radish, garlic, and asparagus. All of these foods are, (surprise!) hitting their peak in the spring and are readily available at Farmer's Markets now.
Engage in preparing these important and beautiful healing foods for yourself in a sacred way.
Often we are in such a hurry to throw together something on a plate, pressed to just get fuel in our body, we skip over the importance of using our daily interactions with our nourishment as a moment which can absolutely elevate the energy of body, mind and spirit in an instant.
Every time you cook and eat a piece of food, you have an energetic relationship to it so never make food while in a bad mood or angry. Cook with love and openheartedness.
Don't take in negative information from watching TV or listening to radio news, or from violent programs while you cook. Instead, listen to beautiful music or sing as you cook, or notice the sounds of the environment around you, if alone. With others, engage in respectful and loving conversations.
Make mealtimes sacred and peaceful—take the blessing of the food into the body with each bite.
Recycle leftovers and waste. Consider this part of your meal to be as important as the others. Try to throw away as little as possible out of respect for those who are hungry in this moment.
A media fast involves temporarily disconnecting from all electronics, television, newspapers or magazines, e-mails, or even talking on the phone. Much like a food fast can help clear out and clean out a sluggish body, leaving it feeling refreshed and lighter, so, too, can a media fast clear out our heads and hearts. As a seasonal spring ritual for even just one day, this is an excellent way to hit the personal reset button. On the simplest level, undertaking this fast will free up thinking space. It will reconnect you to a different kind of cognitive awareness: rumination and reflection. It may even introduce you to creative aspects of yourself that you didn't know existed, as you enjoy some quiet time and reconnect with other interests. Ideas will present themselves to you more readily, and you will find yourself available to revel in the small joys of your own life. You also will be freer to live in the present moment, which is the foundation of a more authentic existence.
Our lives are illuminated and transformed by what we choose to do each day. Spring is the time to start that process.
About Randi
Holistic wellbeing expert Randi Ragan is the founder of GreenBliss EcoSpa, Los Angeles' only award-winning mobile spa and wellness service, celebrating its tenth year (2016). For over twenty years Randi has led yoga and spiritual retreats, created experiences for healing and wellbeing and guided groups and individuals with rituals and ceremonies to mark life milestones. Synthesizing all these experiences is her new book A Year of Living Mindfully:  Seasonal Practices to Nourish Body, Mind, and Spirit (found on BarnesandNoble.com and Amazon).  More of her writing, tips, and daily inspiration for mindful living can be found on her blog randiragan.com, on Twitter @randiragan, and on Pinterest and Facebook.