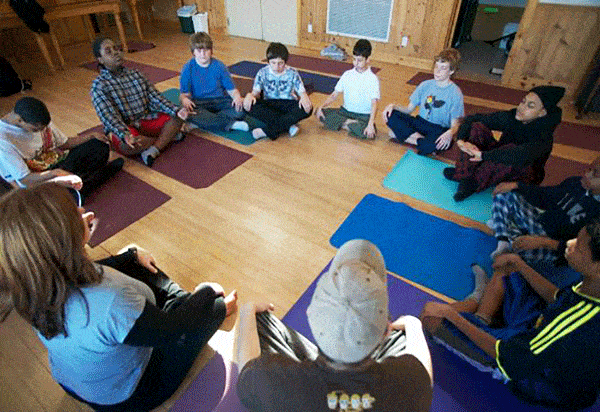 "Let's begin class in an easy, comfortable seated position."
I have uttered that phrase many thousands of times in my life as a yoga and mindfulness instructor. For adult students, the follow up phrases would focus on executing precise alignment. Most adult students I have had the pleasure of instructing are just fine with working for a precise, austere posture. For teen students, however, I find a very different approach to be more effective. Something along these lines:
"Find a position you can be in for 7-10 minutes without having to move very much. This may be a cross-legged pose or sitting upon your feet. You may choose to sit by a wall or piece of furniture if that helps you to sit tall at first. Place your hands on your knees.
Find your next inhale, and as you exhale, feel the floor beneath you. Let your body rest into the floor. Now, inhale deeply softening your belly. Exhaling, feel the strength in your abdominal muscles without tensing too much. Inhaling, gently lift up through your chest, lengthening your spine. Exhaling, soften any tension in your shoulders. Align your ears over your shoulders.
It's perfectly fine to make little adjustments over time to become more comfortable. The goal here is for you to feel at ease. The only thing to do here is simply be yourself. Relax your body, even while you are in this uplifted position. Find your center and let yourself just be. There is no perfect pose to achieve. You won't get a grade on how well you do. This is all about you being in your body and watching your mind."
A Word on What NOT to Say!
Instructions like "pull the flesh of your buttocks out to the sides" are fine for adult classes, but this classic yoga instruction is, for obvious reasons, simply not a good idea when instructing teens. Unless, you feel they need a little comic relief, then go right ahead!
Read more about this topic with our 3 Tips for Modifying the Traditional Seated Pose for Teens.