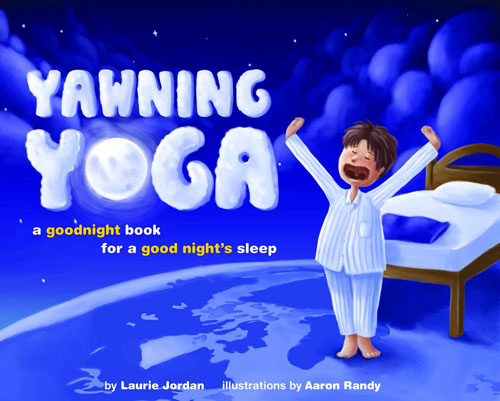 Parents who love our teen yoga resources often ask for suggestions on titles for yoga with younger children, specifically seven and under. Here are a few of my favorites. Let us know what you would add to this list in the comments section.
 BOOKS
Yawning Yoga helps quiet the noise and shifts children's focus from outside stimuli and daily stressors to attention of stretching, posture and breath work. The ultimate result is relaxation, a timeout from stress, and a restful good night's sleep…for both parent and child.
Little Flower Yoga for Kids offers a unique program combining yoga and mindfulness in an easy-to-read format. Written specifically for parents and kids, the book aims at teaching children to pay attention, increase focus, and balance their emotions—all while building physical strength and flexibility. Based on a growing body of evidence that yoga and mindfulness practices can help children develop focus and concentration, the simple yoga exercises in this book can easily be integrated into their child's daily routine, ultimately improving health, behavior, and even school achievement.
Yoga for Children will encourage your child to learn about yoga with an attentive, at-home instructor — you!  Even if you are new to the practice, author, mom, and children's yoga expert Lisa Flynn will guide you and your child through more than 200 yoga poses, meditations, and activities that are suitable for children between the ages of two and twelve.  Complete with full-color photographs, instructional scripts, and pose modifications, Yoga for Children will help build your child's confidence, self-awareness, and focus while strengthening your connection — one yoga session at a time.
DVD's
Taught by experts and developed with kids, these video classes combine exciting stories with creative movement, yoga and Brain Gym®. Kids get the fun of acting out the story through movement – being a scooter, a jet boat, a storm, a butterfly, a lion and so much more – while learning easy-to-do, self-regulation techniques called Adventure Skills.
Children learn geography and philosophy with friends Jean-Jacques the pirate, Spanish and poetry with Lalita the Mariquita, and story structure as they retell the story with yoga poses. The story is told with beautiful stick puppets made by Artist Angela Beloian. There are songs, breathing and relaxation, peace education and lots more fun!
CD's
Sing along with the songs while following the movement cues for a fun and effective way to utilize the breath, while building self-awareness through yoga-based activities. Timeless messages of peace, community and self-love will warm your heart.
Come Play Yoga! features an eclectic mix of musical styles, including rock, reggae, disco, country, new age, and rhythmic chanting.  Kids can practice yoga along with popular songs from our classes, or they can just chill out and enjoy the yoga groove. Each track playfully aims to inspire confidence, strength, imagination, and inner-peace, as well as bring a smile to your child's yoga practice.
DECKS
Get kids bending, breathing, and stretching with the The Kids' Yoga Deck. Playful poses such as Cat, Flower, Airplane, and Gorillas well as partner poses that can be performed with friends teach kids the basics of yoga. Easy enough for children to do on their own, The Kids Yoga Deck engages bodies and minds to help youngsters build strength, flexibility, balance, and mental focus.
Practice bending, twisting, breathing, relaxing and more with Yoga Pretzels, a vibrant and colorful set of illustrated cards that provide a healthy dose of fun and education while teaching all the basics of yoga to help your head and heart.