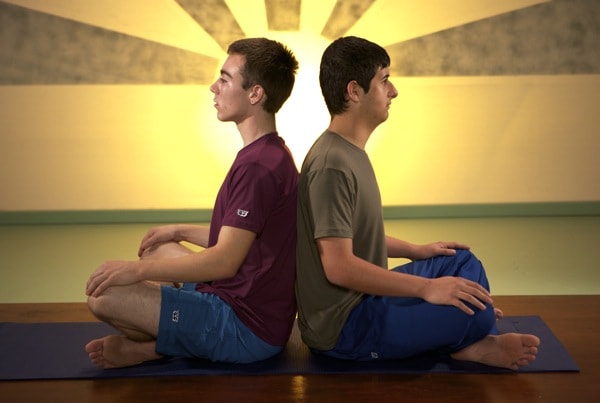 Note to Yoga Teachers from our Founder, Abby Wills:
Dear Teacher,
Whether you are a yoga teacher just getting interested in teaching youth or a seasoned youth teacher seeking resources, I am so glad you are here! The work you do is a powerful contribution to the lives of young people. Together we can help cultivate a generation of peacemakers!
I truly hope you will find our resources, articles and programs enriching to your teaching practice. Please feel free to connect with me and our team of teachers with any questions, concerns and feedback. There is not much I'd rather spend my time on than supporting and communing with other teachers. Reach me here: abby@shantigeneration.com
In this section, I will share ideas and resources to empower your classes and programs with field proven methods of reaching teens with the message of life long health and wellness through yoga.
With Appreciation,
Abby
Top 10 Ways to Reach Kids and Teens with Yoga
1. Get Ready to Discover!
Enter every class experience with eyes and ears for learning. Watch, observe and deeply listen to each student. Discover their needs and let theirs needs lead the way.
2. Know Your Stuff
Take a course or webinar in childhood and/or adolescent development. The information will enhance your ability to deliver yoga in developmentally appropriate methods.
3. Observe the Masters
Seek out masterful teachers of any subject and observe how they interact with youth. How much do they talk? How much do they listen? What types of questions do they ask.
4. Ask Great Questions
Learn about your students with daily inquiries about their experiences. What do you care about most? What or who helps you find peace? What motivates you to develop strength?
5. Remember Your Youth
As best as you can, recall your own adolescence. Can you remember what it felt like to be in an endlessly changing body, seeking control and power, but needing so much support?
6. Develop Compassion
Teens moodiness is not about you. It's more about hormones and factors mostly outside or teens control. Try not to take bad moods personally, but rather find your sense of compassion. Teens will feel that right away.
7. Create a Safe Zone
Build strong boundaries that help teens feel comfortable and safe to fully enter the yogic practices. Refuse to allow any sense of bullying, ridicule or harassment in your class. There can be lots of freedom of expression, but absolutely no harm to others.
8. Share the Benefits
Let your students know why you do what you do, in the big and small picture. Share your motivation for teaching and also share how each practice can help youth find their own optimum health.
9. Be Cool About It
Teens can feel if we are overly attached to outcomes. They are more comfortable when we come with an offering and allow them to have a say in in the process.. They will progress more rapidly if we are not stressed about outcomes.
10. Envision
Always hold a vision of your students developing into thriving, resilient adults. See the work you do as a contribution to their life long quest for health. See them at their best and you will reflect their best to them.
Encourage Home Practice
Every teacher dreams of her students embodying the practices and methods we teach beyond the classroom. We all want our students to take the skills they learn onward into their lives. How can we encourage our students to take the practices home? This was one of the burning questions that inspired us to create yoga practice programs for youth on DVD format. Many youth have access to DVD players or computers, either in the home or at community centers.
Using DVD's as Home Practice Resources
Great idea, but how do I get DVD's into the hands of all my students?
Here are a few ideas to get started:
• Purchase a set for loaning to students.
• Offer DVD's for purchase to your students. Buy at bulk discount and sell at retail prices.
• Ask a local business to support your students by purchasing a set.
• Request a fundraiser at your local yoga studio. Ask teachers to donate proceeds of a special class to your program.
Practice Logs and Journaling Prompts
Once you've supplied your students with practice DVD's, encourage them to engage deeper by offering practice logs. Here is one you can print and use right away:
Journaling is another powerful way to help teens make connections between mindful practices and daily life situations. Whether in or out of class, encourage your students to write or draw about their experiences using provocative journaling prompts connected to the skills you are practicing in class.
For example, when working on developing balance and centeredness in postures, offer the following inquiries to be responded to via journaling:
1. In what parts of your life do you want to create more balance?
2. How can yoga and mindfulness practices contribute to balance in your life?
3. How do you know when you are out of balance?
4. What do you do to get back to center when you know you are out of balance?
5. Who do you know in your life that seems balanced and centered?
One prompt per week will be plenty to get youth thinking about the implications of practices beyond the mat.
Check out THIS FEATURED CONTENT FROM ABBY about teaching youth yoga:
MindBody Green: 5 Ways to Get Teenagers Practicing Yoga
Elephant Journal: How to Become an Effective Kids or Teen Yoga Teacher
MindBody Green: Yoga for Kids and Teens; Coming to a School Near You