Designed Specifically For Schools: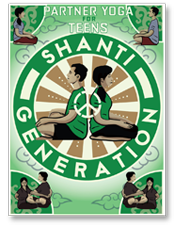 Designed specifically to fit into the classroom schedule, PARTNER YOGA FOR TEENS is a series of ten 5-minute Partner Yoga videos accompanied by a 25 page teacher training manual.
This popular program is proven to enhance physical, mental, emotional and social health for all types of teenagers, including those with special needs and autism. It offers young people an opportunity to develop skills to transform the culture of bullying and peer pressure that is so prevalent in their lives.
Shanti Generation's PARTNER YOGA FOR TEENS program responds to the social and emotional needs of teens, including:
Learning to communicate mindfully;
Developing listening skills;
Listening beyond words;
Learning to express needs and feelings;
Understanding what it means to support and be supported;
Learning to work in community with peers;
Having the experience of working and relaxing with peers.
PARTNER YOGA FOR TEENS helps teens learn to be allies with each other and work together for a peaceful future. Please see the videos below for visual examples of the program content.
About the Teacher: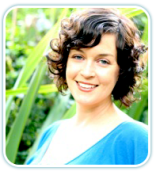 Abby Wills, MA, E-RYT
Co-Founder, Program Director, Shanti Generation, LLC
Abby brings her passion for developmental education and deep respect for the tradition of yoga to her work guiding youth and teachers in contemplative arts. Abby's approach is informed by studies in social justice and democratic education at Pacific Oaks College, as well as two decades of training in yoga. Having taught thousands of hours of yoga lessons in schools over the past fifteen+ years, Abby felt deeply compelled to create a program that could reach teens who don't have the privilege of yoga classes in their schools. Abby is a mother of two lively boys. She makes her home with her husband in the foothills of the San Gabriel Mountains in Southern California.
How To Sign Up:
Visit our sign up page and chose from two options:
Partner Yoga –

one year educational license.

Partner Yoga – 

three year educational license.
These licenses are for school-wide use.  If you are a Title One School, please contact us for a discount code.
Previews — We provide previews to funded media buyers from educational institutions via our online Private Client Screening Room.  Contact us for access. We do not provide physical DVDs for preview purposes.
What does Partner Yoga look like?
What are kids saying about Partner Yoga?
What are the teachers saying?
"As a yoga teacher for children and teens, I'm always looking for inspiring teachers/content that can help me to grow in my practice. When I came across Shanti Generations Partner yoga for teens I was instantly moved and inspired. Abby Wills creates a safe and peaceful environment for teens to connect with themselves and to each other. Learning to work together and to listen to one another are some of the benefits that teens will learn to do while watching this DVD. I will certainly use these methods in my own teachings. With a DVD like this out on the market, I am convinced it will help a generation learn to work together more harmoniously. I highly recommend this to teachers, Parents, teens and any yoga teacher who is interested in working with children and teens." — Jennie Faye, Yoga Teacher
"Abby Wills' wealth of experience working with this age group is very clear. Her voice is both strong and soothing, and immediately creates a safe space for adolescents to explore. Her choice of language is very clear and impressively age-appropriate. I love how she offers step-by-step suggestions for greater understanding of each pose. The yoga sequences are fun and easy to follow, the choreography is exquisite, the set designs calming and beautiful and the musical accompaniment is brilliant. Thank you for moving yoga education forward with such love and respect." — Deborah Van Handel, Youth Yoga Teacher and Trainer